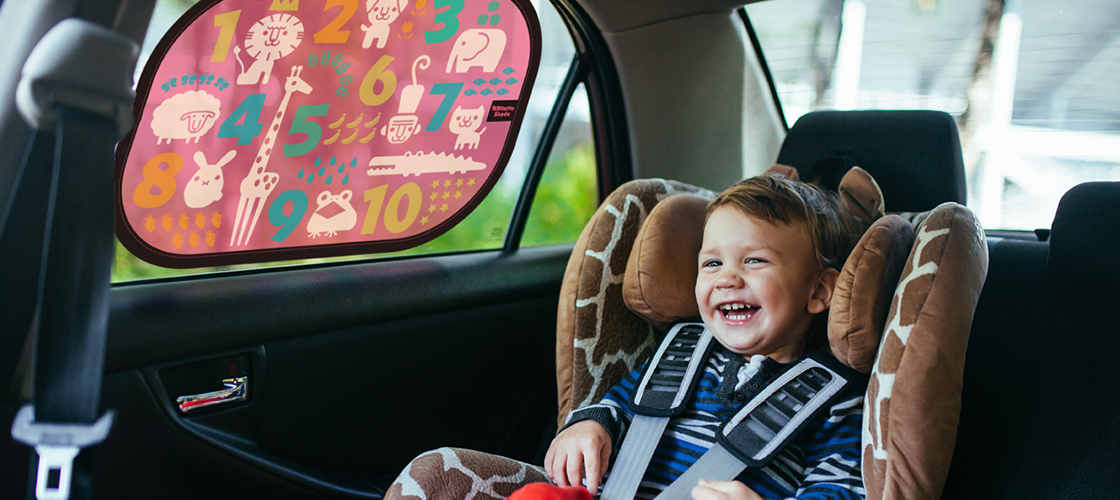 Bitatto Shade
Sticks onto your windows like a plastic wrap! You don't need sunshade suctions!
You can use the shade in the cars, at homes, or offices.
With Bitatto Shade, you can make a fun learning space for your children.
2 layer structure of polyester mesh and vinyl.
With its self-adhesive power, it adheres to the glass surface with the suction cup.
Two types – Alphabet and numbers
Alphabet – Not just alphabets, but there are also pictures that children can guess the name of! Enjoy studying in the car.
Numbers – Let's count numbers with cute animals.
When you're not using the shade, just roll it and store it in the package.
Retail Price in Japan 【Alphabet / Number】¥810【Color&weather(2 designs)】¥1,380
---
COLOR VARIATION
Alphabet
Number
Color&weather
(2 designs)
---
Cautions
This product uses a material with very high adhesion to the glass surface. Please be aware that due to the characteristics of the material, color change may occur if the shade is in contact for a long time with other materials such as fabrics. Even if the color change occurs, it doesn't affect the performance of the shade.

When you open the package, the shade may bounce and fly out of the package. Please be careful not to hurt your face.
Before putting on the shade, please remove any dust, oil, water, etc. from the window.
Please be informed that you may not you cannot put the shade to the windows that are smaller than the shade.
If there's dirt on the window, shade will not stick on to the window. Please remove the dust before use.
Please do not put the shade on the windows of driver's seat and passenger's seat. Do not put on the shade where it can interfere the driving.
Please do not open or close the window with the shade on. Please remove the shade before opening or closing the window.
Please do not put on the shade at night or in tunnels.
Please do not put on the shade ONLY on the windows, not on any other places.
Please do not use the shade for any other purposes than sunshade.
Do not force the frame to deform as it may cause damage.
Please keep the shade away from sharp objects, hot places, and fire.
Please do not push and stick your fingers into the shade.
Please note that we are not responsible for any accidents, damages, violation of laws and regulations caused by the use of this product.
Keep it out of reach of small children.
---
SPEC
Material Description
【body】polyester,PVC,Steel
Item Size
W470×H320mm
Packaged Size
W190×H230mm
Origin of country
China
Retail Price in Japan
【Alphabet / Number】¥810
【Color&weather(2 designs)】¥1,380

※ Package design are subject to change without notice.