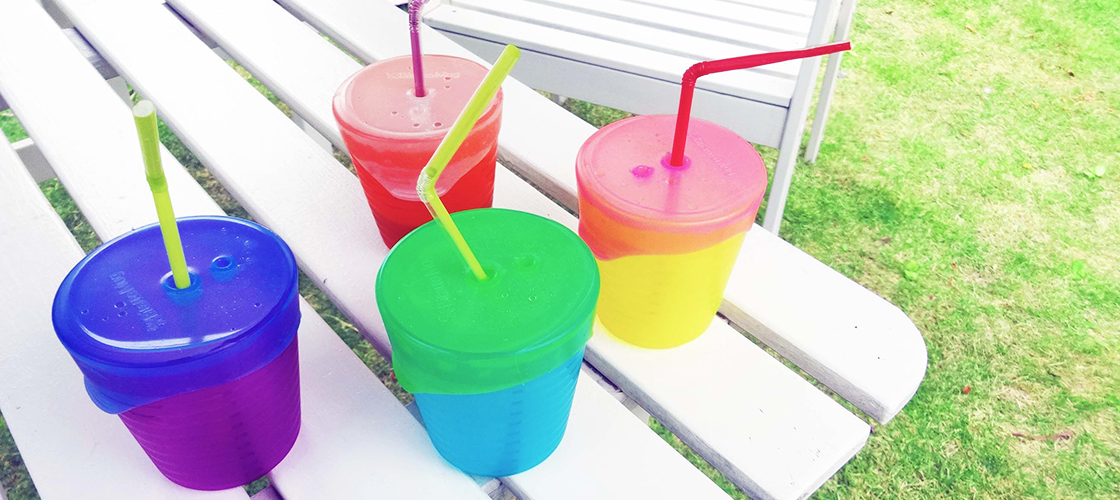 Bitatto Mug
You do not need a special cap to protect your drinks.
You only need to cover your cup with Bitatto Mug and your cup will become a straw attached drinking cup.
Bitatto Mug is a silicone rubber cap with a straw inserted.
Your drink will not be spilled! Perfect item for babies, elderly, and disabled people.
Retail Price in Japan 【Standard】¥795 【With case】 ¥999
---
Pinpoint
Bitatto Mug can be used for cups with a diameter 7~10cm.
You may use plastic straws with Bitatto Mug.
Light and easy to carry.
Smooth suction with valves.
Smooth suction with valves.
Boiling for disinfection OK! – Very sanitary
Silicone straw is included in all products.
---
COLOR VARIATION
Green
White
Blue
Pink
Clear
Orange
【With case&straw】
---
Directions
1. Hole the long part of the cap with two hands. Be careful not to break your fingernails.
2. Cover your cup with Bitatto Mug! Please make sure that the cap is rightly attached to the cup.
Silicone straw directions
1. Insert the straw first before covering your cup with Bitatto Mug.
2. Please insert the straw from the inside of the cap. Pull it thoroughly so that the straw gets positioned correctly. Please be careful not to press the mug with your fingernails.
Bitatto Mug can be used for inhaling and exhaling training.
---
SIZE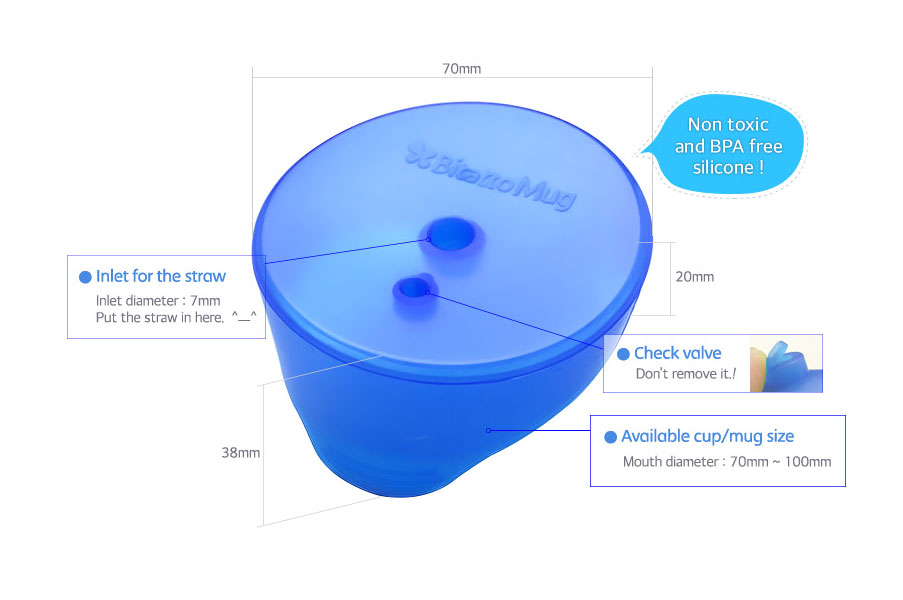 ---
Cautions
Bitatto Mug's material, silicone rubber is very delicate. Please do not pull the cap too hard or scratch it with fingernails or sharp objects.
Please wash the product before using it for the first time.
Please do not pull or scratch the product with your fingernails as the product may get damaged.
Please check for any cracks or damage of products before use.
Please watch your children when they are using the straw as they may stroke or may poke their eyes with it.
Since silicone is easily dusted, please wash it and dry it completely before use. If moisture is left inside or outside of the straw, it will be difficult to insert the straw into the product.
Do not store the product in direct sunlight or near fire.
Please note that we are not responsible for any contamination or damage caused by customers.
Product specifications and packages may be changed without notice.
There is a special bulb! Since it lets air in when you suck, you can drink smoothly.
If you push covered BITATTO MUG, beverage is come out from straw. It will be used for drink training for baby!
Rarely special bulb might be appeared to outside due to tilt during shipmen, there is no problem regarding quality. Please push back the bulb by finger.
SPEC
Material Description
Silicone Rubber 100%, Straw – silicone rubber, [With case] Case: PP
Item Size
Diameter:70mm, Height:38mm(Longest part) / 20mm(Shortest part)
Packaged Size
【Standard】W110×D40×H170 ㎜
【With case】W120×D41×H175 ㎜ (Case size) W80×D80×H41 ㎜
Origin of country
Korea
Retail Price in Japan
【Standard】¥795
【With case】¥999

※ Package design are subject to change without notice.